Jet Aviation Service Amsterdam
Fast & stylish transport to and from the Jet Aviation Centre
Jet Aviation Service Amsterdam
At Dutch VIP Services we understand that your travel needs sometimes call for a level of luxury and exclusivity that goes beyond standard transportation. That's why we offer our Jet Aviation Service, a premium service that gives you the ultimate luxury transportation experience. With Dutch VIP Services you can enjoy a comfortable ride to and from the Jet Aviation Center Schiphol East from where your private jet will land or depart.
Comfortable & Luxurious Rides
At Dutch VIP Services we strive to make your transport as comfortable as possible. Our fleet of luxury vehicles are equipped with modern amenities and provide ample space for you and your luggage. Whether you are traveling alone or with a group, we have the right car to meet your needs. Hop on and enjoy a relaxing and luxurious ride to the Jet Aviation Center.
At Dutch VIP Services You Can Count On:
Jet Aviation Service Amsterdam
Flexibility & Convenience
With our Jet Aviation service you enjoy maximum flexibility and convenience. You determine the departure and arrival times, as well as the desired destinations. Our experienced team of professionals will guide you through the planning of your trip and make sure everything goes according to your wishes. Whether you need to arrange a last minute flight or are planning an extended trip, Dutch VIP Services is ready to meet your needs and make your travel experience seamless.
Privacy & Confidentiality
At Dutch VIP Services we understand the importance of privacy and confidentiality. You can rest assured that your trip will be handled with the utmost discretion. Our Jet Aviation Service safeguards your privacy and ensures that your personal information and travel details are treated securely and confidentially.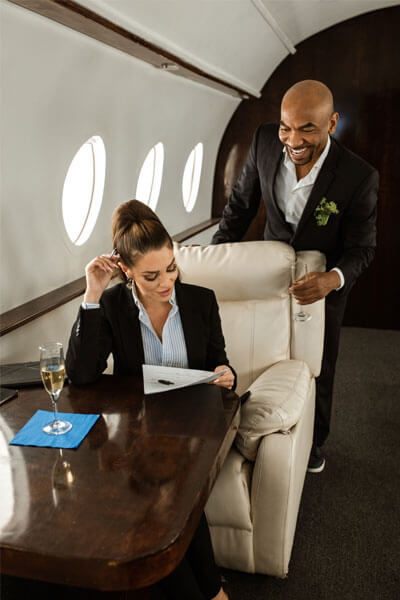 Professional & Expert Drivers
Our drivers are trained, professional and knowledgeable in navigating the traffic to the Jet Aviation Centre. They are familiar with the best routes and take all the necessary measures to make your trip go smoothly. Our drivers are friendly, courteous and always ready to assist you with your luggage. At Dutch VIP Services, we strive to provide you with excellent service, from the moment you are picked up to your destination.
If you are looking for unparalleled luxury and exclusivity in your transport experience, choose the Jet Aviation Service from Dutch VIP Services. We offer you the opportunity to travel in style, enjoying comfort, privacy and flexibility.
Contact us today and let us tailor your trip so you can enjoy the ultimate VIP experience.